Once upon a time there was a wolf who was so hungry that when he went to bed he said, "When I wake up, I am going to eat the first thing I see." The next morning when he opened his eyes the first thing he saw was the sky . . .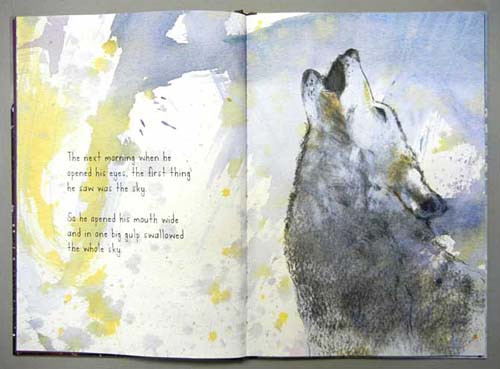 A brave little boy begins to look for the wolf to get the sky back and is joined by a little mouse and several other animals ÊA key moment in the story is when the boy and the animals find the wolf.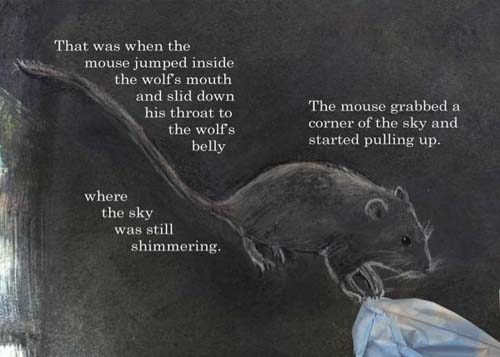 You can see and hear Anna at 3-1/2 years old tell one version of this tale on YouTube.Ê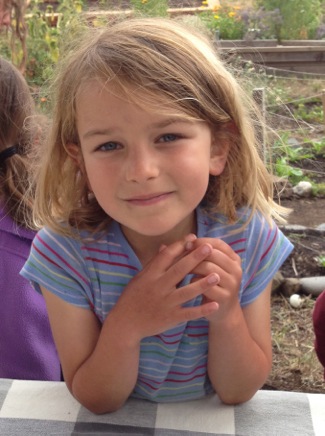 The cover design was inspired by the folded sheet of paper used to convey the idea of the sky shimmering in the wolf's belly.
The images in the book have been created as graphite and charcoal drawings on handcolored paper. The painted paper offers a variation from what would otherwise be a black background in a story that is set mostly in the darkness of night.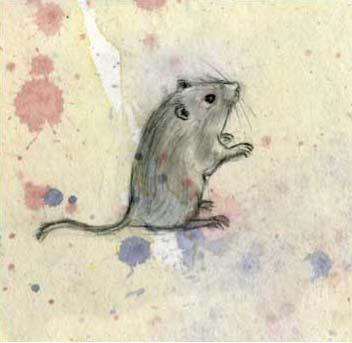 Love the light in the world.
Feed the hungry.
Treasure working with friends.


The hardback book sells for $16. It has 32 pages and measures 10-1/4 x 7-1/4 inches. It is available here, at Heyday or Amazon or at your local bookstore.