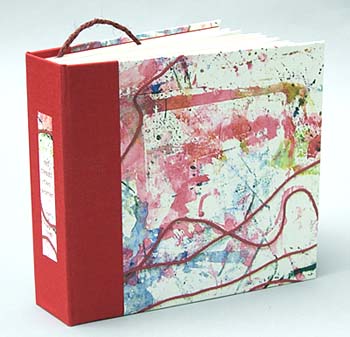 red thread, two women is a rhythmic, flowing collaborative poem, exploring human insight, discovery and personal growth. The book measures 8 x 8.5 x 2.5 inches in its slipcase and extends, when fully opened, to six feet. 36 pages. Edition of 38 copies. Publication Price: $1,500

The poets, Paula Sager and Lizbeth Hamlin, are practioners and teachers of Authentic Movement, a practice that is concerned with the exploration of relationship. In its simplest form there is a mover and a witness. The mover, with eyes closed, waits for an impulse to move. The witness follows or tracks his or her own experience while being present and attentive to the mover.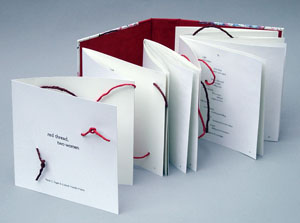 The design of the book has been inspired by the poem and evokes the experience imbedded in the writing. The string/thread acts like a drawn line and can be moved around by the reader to change the "drawing" and the experience.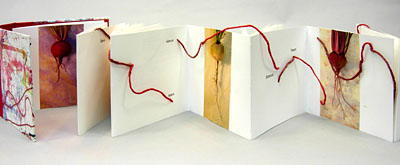 The reverse of the book uses images of beets, accentuating characteristics of the poem – their string-like roots and the fullness and ripeness of their shape. The back pages also carry and emphasize individual words from the poem: voice, awaken, heart, distance, silence, tears, flame, breath, birth.

Five Beets, a portfolio of five hand-colored digital images, is available for $900 separately, $600 if purchased with red thread, two women.

From the afterword:

"It was this relationship of mover and witness that became, for us, the vehicle to explore questions about language, body and consciousness.  What made the process even more intriguing was that we moved and witnessed in relationship to each other from a distance of 3,000 miles. . . .The process of moving and writing was completely dependent on our own individual sense of timing. Eventually, we came to realize that the emergence of the material seemed to have a momentum all its own"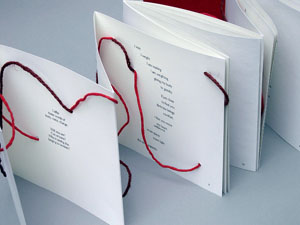 Biographical notes for red thread, two women:

PAULA SAGER

Paula Sager's life as a writer has always run parallel with her life as a dancer.

During the 1980's she was a dancer and choreographer and also wrote reviews of the performing arts for a regional newspaper and occasional essays for Contact Quarterly, the contemporary dance and improvisation journal. Her visceral pleasure at seeing and thinking about movement has always been as compelling to her as the act of moving itself.

In the 1990's, inspired by her study of the body-based practices of the Alexander Technique and Authentic Movement, she co-founded A Moving Journal, an international publication featuring articles, stories, poetry, and art. For thirteen years she was an editor and frequent contributor of poems, interviews, and articles to the Journal. In recent years she has become increasingly involved in collaborative writing, video, and performance projects that explore the role and impact of the witness. She lives with her husband and three children in Providence, Rhode Island.

LIZBETH HAMLIN

Lizbeth Hamlin is a practicing Jungian psychotherapist whose poetry and prose spring from a deeply intuitive stream of images, dream figures, somatic reflections and connections. She is an active member of the Sonoma County Writers Association, through which her poetry has frequently appeared in anthologies of the organization's collective work. For the past five years she has been a freelance columnist for the Press Democrat, a New York Times owned newspaper, writing on issues related to psychological, spiritual health and well-being.

For several years she has devoted herself deeply to the study and instruction of Authentic Movement, where she often contributes to the practice's international publication, A Moving Journal. Dance and artistic performance have always served as creative outlets in her writing life. She presently lives with her teenaged son in Santa Rosa, California.